Dr Van Helsing

First off, tell us a bit about yourself




I am a 63 year old retired foreign language teacher and instructional technology specialist for a large suburban public school system. I have either been studying or teaching language and technology usage ( another foreign language for many users ) for almost 50 years. I;I've always worked with people and do consider myself a people person.. I just like learning about people in general and discovering how they function. we all are unique. I presently amuse myself and keep busy running a small photography business and performing in theater productions in Northern Virginia, primarily community theater, but have recently been part of a few professional productions and two independent films produced in the DC area.



Starting with your acting persona, how do you prepare for a role? When I am cast in a role, be it a small ensemble bit in a musical or a major supporting character actor in a drama or the lead in anything, I try to learn about that character and become what the character can be. Interpretations of parts can vary depending on where the director wants to go and what the actor brings to it. I tend to walk around for days at a time, pretending to be "Harry the Horse" from Guys and Dolls, or the lead barrister from "cause célèbre" or an Italian grandfather whose command of English is challenged! I do draw a lot on my language and mimicry skills when doing accents, and actually have served as a dialect coach on a few productions. I always had a good ear for language and enjoy going into that fantasy world.





How do you decide what show you're going to audition for? I always read the play. Usually, given my age, the lead role is not in my ballpark, but I do love gritty and gutsy character roles. There are two parts I am looking at now, one the father of a deranged teenager and the other the husband/doctor who has fallen in love with one of his patients. Both are medium size parts and both are pivotal in the development of the show's story. If I am not cast, I do know that there will be other parts out there., and something right will happen for me, re: casting. Case in point, since I began writing this, I did interview for a part, one for which I thought I fit well, and was not cast. At first, I was very disappointed but slowly, slowly, I'm now focusing on an audition for next weekend!





What types of roles do you prefer or character types do you like playing? I like strong emotional character roles. I did one cameo where I portrayed a killer who menaced a young woman with a knife and a nasty foreign accent—it was short, but great fun! I also like acting with an accent, and have done British, Italian, French, German, Russian and Spanish accents on stage-the parts where I actually get to speak in another language are especially fun. Many people have asked me where I come from after seeing me act!! I just love that!!



Who are some actors you admire? DeNiro ,Brando, Kevin Spacey, Kevin Klein, Bogart, Edward Norton.



What kind of training have you had as an actor? Minimal. I have done a few workshops but mainly am self taught, I always listen to my directors and try to give them what they want/need from a role. I know that timing is so important and try to craft my delivery of my lines for the most realistic impact-or the most comedic impact if that is needed.



Performance you wish you could erase permanently? Well, I'd rather not say specifically because I like the people who produced it but it was something about a trio of French guys with swords that I don't even mention in my résumé! It stunk!



What is your dream role? Tevya in Fiddler. I am a huge Zero Mostel fan…and would love to do Max Bialystock as well!



Of all the performances you have been involved in, which one stands out the most to you? In 'Over the River and Through the Woods" I played a 75 Italian grandfather. It was such a satisfying part-comedic with a few good dramatic speeches and I got to wear great make-up and speak with a heavy accent. When that one was over, lots of people asked me, " so, what part of Italy do you come from!?"





Let's switch gears and talk about your photography.



How long have you been doing this? well, I began when I was a young man, in the 70s, doing black and white, developing my own film and printing in my own little darkroom. Then life happened and I just became a dad photographer for many years. Just in the last 3 years have I discovered a new love for digital photography. I love doing portraits and figure studies, with many artistic nudes in my portfolio.



How would you describe your style? Portraiture, micro-composition of people's faces and bodies with a strong emphasis on the human body. I love to capture shadow and form and contrast in a close up environment.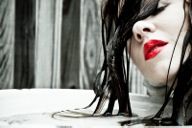 How does your experience as an actor help you in your role as a photographer? Good question—I have always been an observer, a very visual person, and study people's faces when I am working with them. I find I am able to make models comfortable during a shoot, even if the model hasn't posed nude or semi-nude before. It's all about the product, the image, and showing the body is only secondary to the image itself.



Talk me through the creative process for one of your photo sessions. I always tell my models, and they all will verify this, that I start slowly, I might have a few ideas for a shoot, a location, a lighting idea, or the model might come with some needed images, but it always is a slowly developing process. The first 20-50 shots I usually don't like very much. As the time develops, as the rapport develops and usually as the light changes, we both adapt and usually good things happen. I like to show the images I like to the model both so that she can see what I am seeing and also to get feedback. Usually models don't suggest poses, which is good, and I do direct a little, asking for movement into or out of a space. With couples or family shoots, I usually take charge more than with single models, since too much input can slow down the creativity.



How do you select a model for your work? I like women or men who are relaxed and comfortable with themselves. Not necessarily the most beautiful or outwardly attractive, but someone who is at ease with their body and their spirit, so that we can create a true image of them. I do not do very much after effect work, ie Photoshop, so I do search for honesty in my models.



What is your favorite theme to photograph? As I have intimated, I prefer artistic nudes, for the most part, women. The female form just can not be improved upon, in my opinion, for subtlety and beauty.




What is your current equipment set-up? I use a Canon T1i body with a few different lenses. My favorite these days is a Tamron 60mm f 2.0 portrait lens, I also use a 18-55mm Canon zoom on occasion. I have an Alien Bee B400 strobe and use a softbox and a snoot to get different lighting effects. Of course, natural light is always there!



What do you feel is the most challenging thing about photography? Being consistent and honest with your images. And not to be too influenced by all the bells and whistles that goes with modern digital photography.



If you could be invisible for one day with your camera…This is such a loaded question! Since I can't say a women's locker room, I have to choose backstage during the performance of a Broadway musical. To see the actors enter the theater, to feel their excitement and anxieties and fears, to watch them put on makeup and costume and prepare to go on stage, to peer into their lives during the excitement of a show and to capture the exhilaration that comes with a job well done—THAT would be sensational!!



Since our company develops games and this interview is being posted on Bloodletting.org, one of our Vampire themed games, I have to ask which character type are you? Vampire, Slayer, Werewolf, Witch or Angel? Well, I am not a gamer..too old I guess, but if I had to be a character, I think Werewolf would be the most appropriate! As long as I had good lighting for the night shots!

For more of David's work visit him at

http://segalman.tumblr.com/ (Warning: This site contains images of nude models. Do not visit if you find this offensive or are not of the appropriate age.)

https://www.facebook.com/SegalPics?ref=hl
September 10, 2012 12:49